Environmental Management Measures
Waste Management
Bora Pharmaceuticals collects, classifies, and stores waste in accordance with the Waste Disposal Act, and also submits online reports in accordance with regulations. We commission qualified disposal companies to implement waste removal and handling, as well as last checks before final disposal.
Pollution Management Costs in Taiwan Region

Waste Management Mechanisms at Tainan Plant
The safety data sheets (SDS) and applications of new products introduced at our Tainan Plant are evaluated, along with product processes, capacities, generated waste, main types and amounts of materials and additives, and maximum and average monthly usage amounts, to determine whether there are any impacts on human health or environmental pollution. Our disposal plans for industrial waste are also revised accordingly. Waste management items that are required to be reported during the year and report times are shown as follows:
Reported every Wednesday: Reports of D-1801 domestic waste and D-0299 waste plastic mixtures
Reported monthly: Online reporting of recycled waste and industrial waste
Reported every six months: Reports of regular inspections for dedicated underground industrial wastewater and sewage systems
Reported annually: Reports of priority management chemicals
Reported every three years: Reports of hazardous chemical exposures and classified management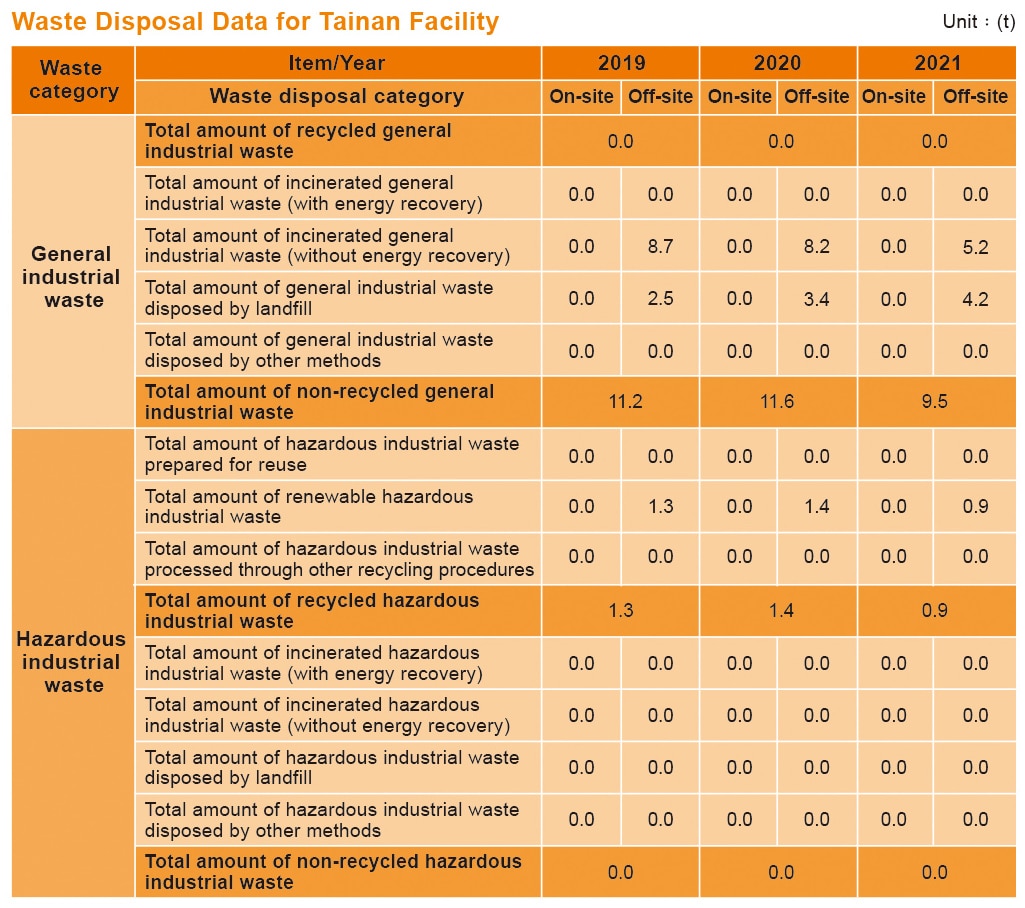 Waste Management Mechanisms at Zhunan Plant
We estimate the total amount of waste in newly introduced chemicals and products, identify corresponding waste codes based on material characteristics, then make adjustments or changes to compiled waste disposal plans which are submitted to the Hsinchu Science Park for review. Subsequent reporting and processing are conducted in accordance with approved plans.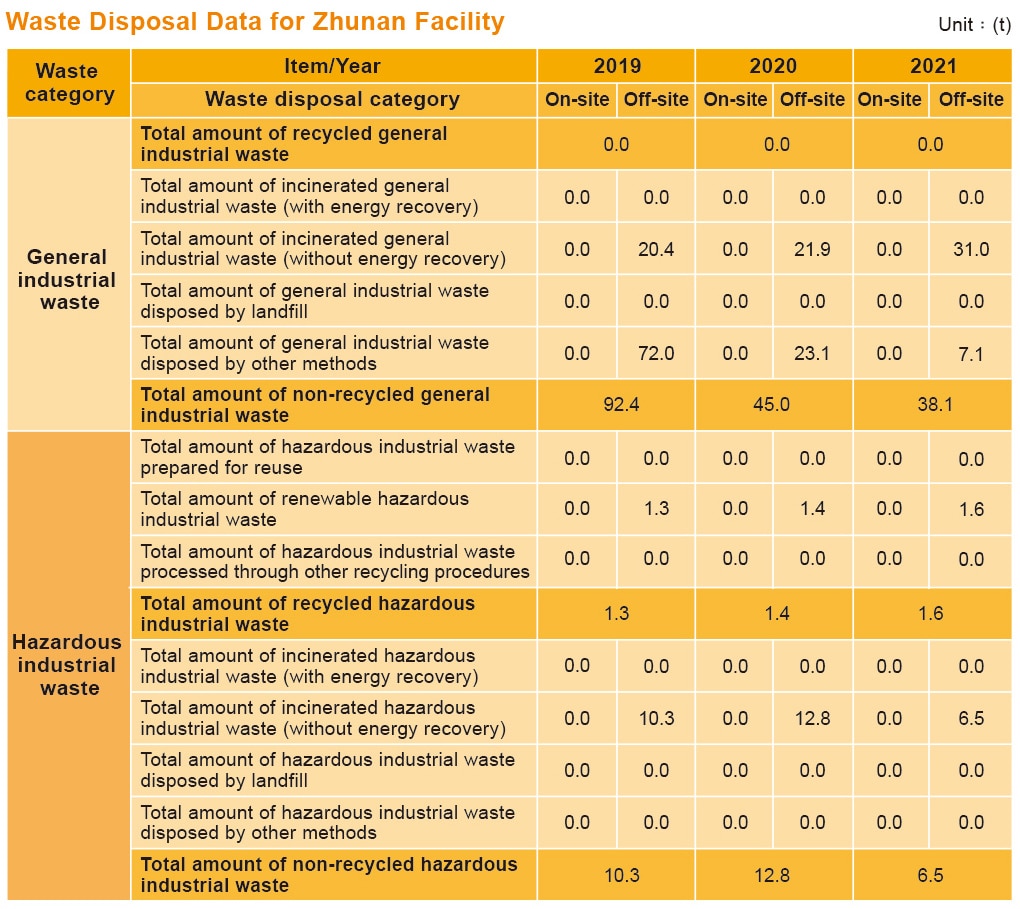 Waste Management Mechanisms at Mississauga, Canada Plant
To ensure that waste at our Canada Plant is disposed of in a safe and environmentally responsible manner, we have implemented standard operating procedures from waste generation to final disposal; all waste is handled in accordance with these procedures, including: "Storage, Segregation, Transfer and Disposal of Waste Solvents and Chemicals from the Quality Control / Analytical Sciences Laboratories" "Documenting, Handling and Transporting of Waste for Recycling and Disposal," "Waste Material Collection, Disposal and Destruction Procedure," "Waste Chemical Removal by Means of Pump out with Assistance from Qualified Third Party," "Pharmaceutical Waste Inventory List," and "Chemical and Hazardous Waste Disposal Form."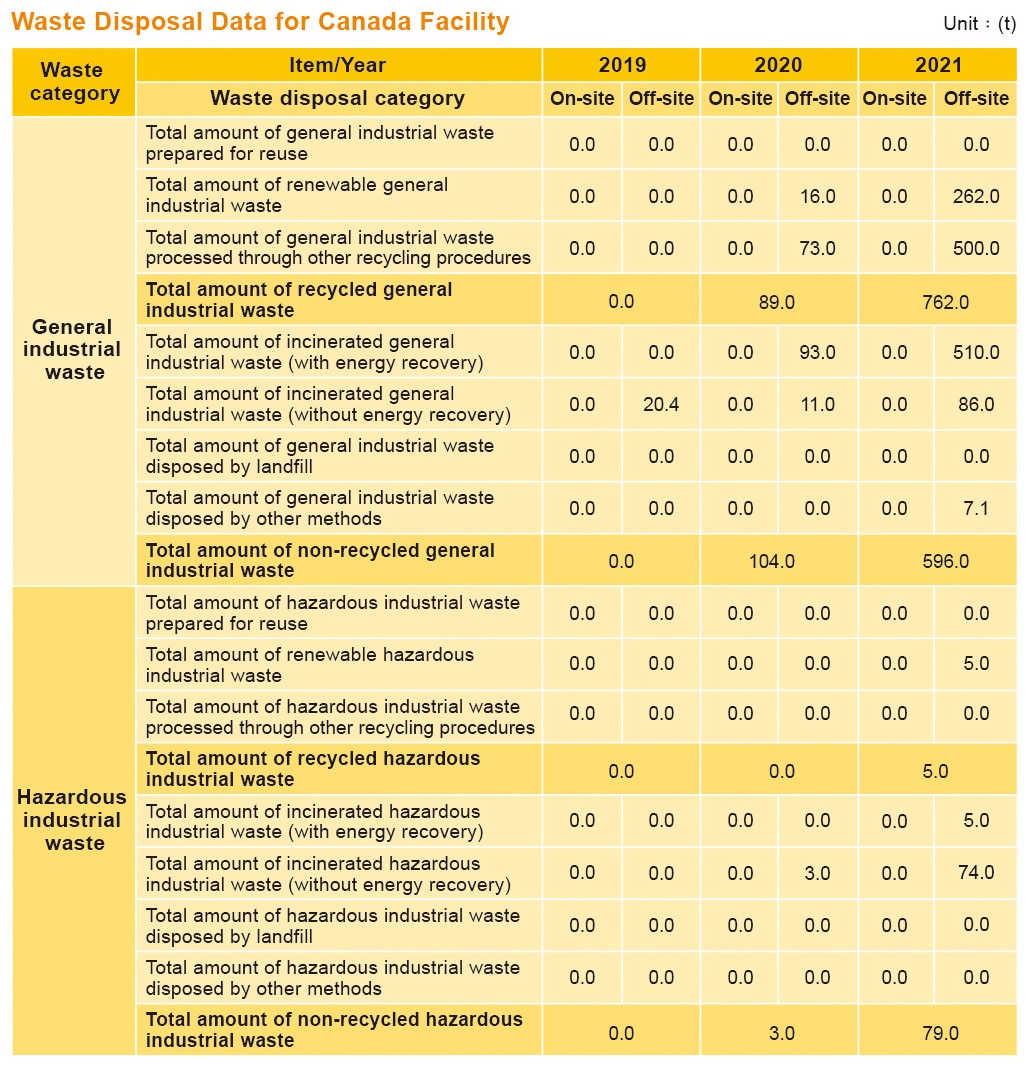 Energy Management Measures
Bora Pharmaceuticals actively strives to reduce overall energy consumption to decrease carbon emissions. Our two main energy sources include externally purchased electrical power and natural gas; we do not use any heavy crude oil or diesel. Our electric systems mainly provide power to factory water chillers, air-conditioning systems, and production equipment, and we use natural gas to power our gas boilers.
Scope 1 Greenhouse Gas Emissions (Carbon Dioxide Equivalent)

Scope 2 Greenhouse Gas Emissions (Carbon Dioxide Equivalent)

Emissions of Other Air Pollutants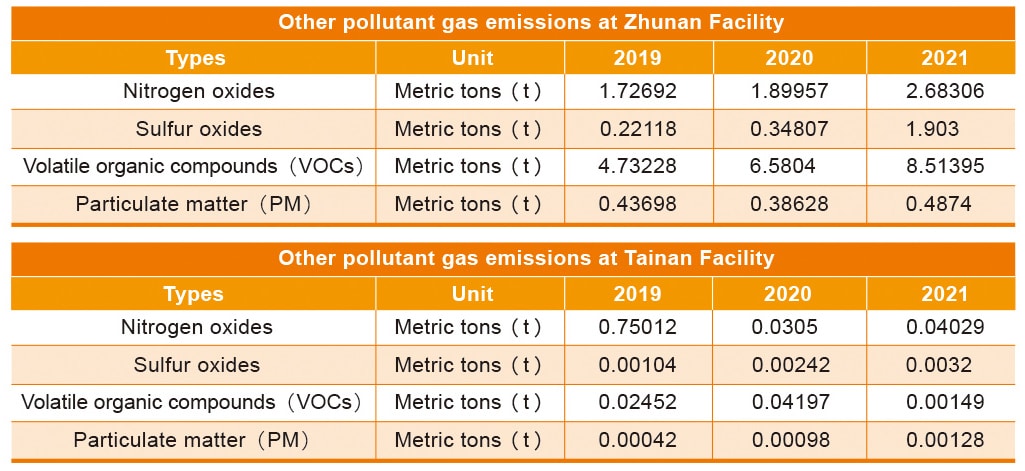 Water Resource Management
External stakeholders are paying increasing attention to water resource issues as climate change has intensified in recent years and often causes water shortages, constituting a common global challenge. Bora Pharmaceuticals hopes to minimize water demands and potential impacts by reducing use of domestic water, decreasing environmental impacts of production processes, and facilitating recycling of water resources.

Water Resource Categories

Water Management Mechanisms at Tainan Plant
Our Tainan Plant has a water storage capacity of 71 tons and maximum daily inflows from tap water equals 60 tons. In 2021, we consumed 10,492 tons of tap water and recycled 2.2 tons each month, resulting in annual recycling volumes of 26.4 tons. Our two main types of wastewater are domestic sewage and process wastewater; wastewater from production processes are collected and treated in factory wastewater collection tanks before discharge to sewage treatment plants. We have designated pipelines in our factories for treatment of industrial wastewater, domestic sewage, and runoff wastewater.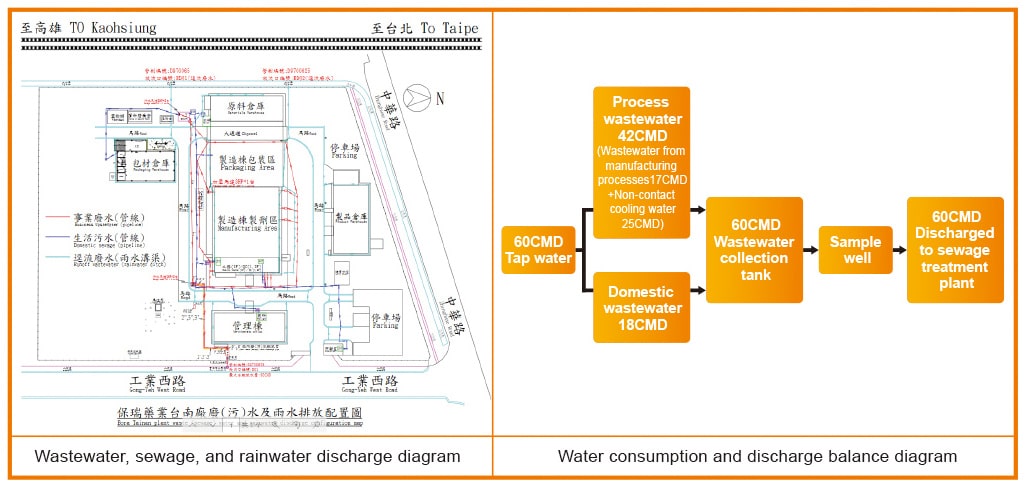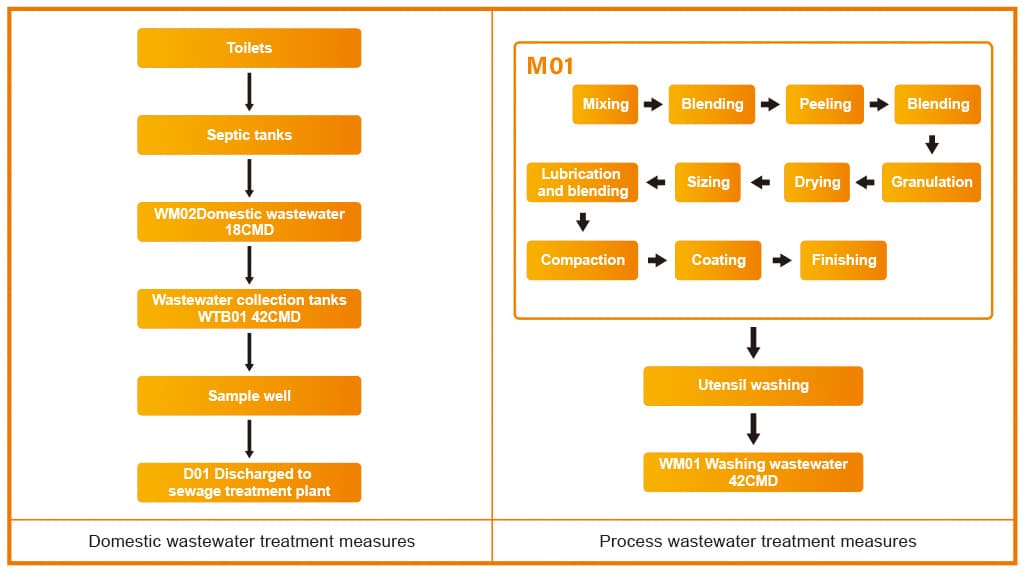 Water Management Mechanisms at Zhunan Plant
Water at our Zhunan Plant is sourced from tap water and we do not use groundwater. In 2021, we purchased a total of 73,652 tons from external sources.
In 2021, we discharged 5,141 tons of wastewater mainly generated from cleaning equipment and facilities; the remainder was generated from washing water in our laboratories and domestic sewage. All wastewater is collected in wastewater collection tanks through our pipelines and then discharged to designated discharge points, where pipelines for wastewater and other industrial units are diverted to science park sewage treatment plants for handling. Science park sewage treatment plants sample factory wastewater at the beginning and end of each month, conduct inspections of and report on wastewater quality every six months, and commission external units to calibrate wastewater amounts every year in accordance with approved water pollution control permits.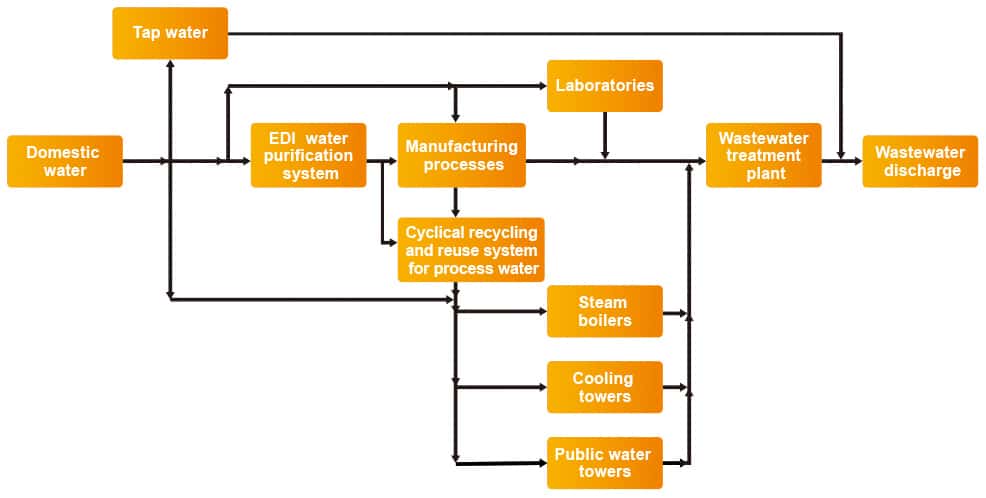 Health & Safety Management Measures
Bora is committed to protecting the safety and health of employee in the workplace, and has set up a dedicated EHS department to overall plan EHS businesses and stipulated related safety and health SOPs such as, safety and health plan, contractor and vendor management procedure, lock out and tag out procedure, Factory security management procedure, accident (incident) and near-miss report procedure, hearing protection plan and respiratory protection SOPs.
In the past 3 years. There have been 4 recordable incidents at ZN site, all of which were minor injury and no severe or fatal injuries were reported.
In 2022, disabling injury frequency rate, FR is 2.08, disabling injury severity rate,SR is 29.15. Work injury number of person is 1, and OHSA total recordable rate, TRR is 0.41.
Work Injury Number
| Annual | Number of Injury | Injury Days | Total Recordable Rate (TRR) | Disabling Injury Frequency Rate (FR) | Disabling Injury Severity Rate (SR) | Annually Accumulated Work Hours |
| --- | --- | --- | --- | --- | --- | --- |
| 2020 | 1 | 7 | 0.37 | 1.87 | 13.06 | 536,061 |
| 2021 | 2 | 12 | 0.82 | 4.10 | 24.63 | 487,264 |
| 2022 | 1 | 14 | 0.42 | 2.08 | 29.15 | 480,216 |
To ensure employee who avoid contacting hazardous substances in the workplace. Bora implements workplace sampling in every half year with the Taiwan regulations, and provides sufficient engineering control and personal protection equipment, PPE to ensure hazardous substances will not cause occupation exposure in operation.
Bora is complying with regulations to implement related inspection and testing every year. Such as, building security inspection, firefighting testing, building grounding testing and dangerous machine, equipment (boiler and elevator, etc) inspection.
Planning annual employee health examination service, the examination contents and frequency are better than current regulations, and according the job types to implement special health examination. Dr. and occupational health nurse provide health consult service each site in the Taiwan quarterly.
Making Success More Certain
Our team is here to discuss how we can become a trusted partner to help bring your breakthrough drug successfully to market.