Board Diversity and Succession Plan
Board Diversity and Succession Plan
Board Diversity Plan
Bora Pharmaceuticals has eight directors (including four independent directors) that serve for a term of three years. Directors are elected based on basic principles of professional expertise and diversity. Board members are diversified among professionals with expertise in finance and accounting, business, management, and technology, with backgrounds in business management, business development, finance and accounting, and industrial knowledge, as well as capabilities relating to crisis management, leadership, and decision-making. Nomination and selection of Bora Pharmaceuticals Board members adhere to the provisions of our Articles of Incorporation. Candidates are nominated in accordance with the standards set out in our "Regulations for Director Elections" and "Corporate Governance Best Practice Principles" to ensure diversity and independence of Board members.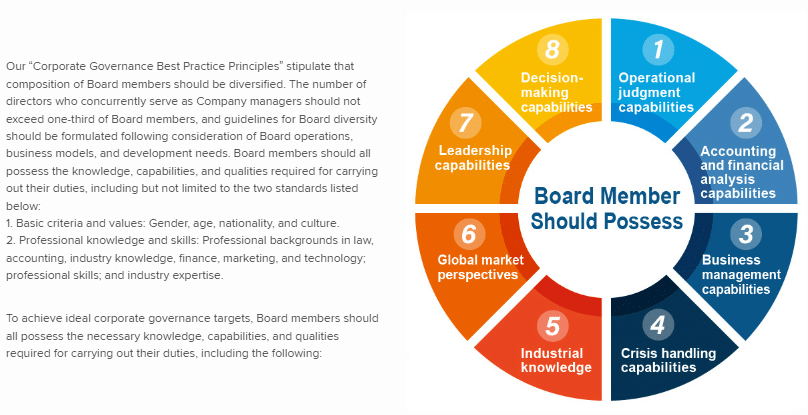 Among the 8 members of the Company's 11th Board of Directors, those with the ability to lead, make operational judgments, manage business operations, conduct mergers and acquisitions, conduct transnational investment, manage crisis, and possess industrial knowledge and international market perspective include: Sheng Pao-Shi, Shen Shang-Hung, Chen Kuan-Pai and Lin Jui-Yi. Among them, Director Shen Shang-Hung has professional competence in electrical engineering. Director Lee Yi-Chin formerly worked in an internationally renowned management consulting company and has professional knowledge in global industries and investment analysis. Director Lai Ming-Jong possesses the qualifications and experience of a Certified Public Accountant and has years of experience as a lecturer in the insurance industry, and expertise in financial accounting, securities insurance and corporate governance. Director Chen Shih-Min has served the Company for years, and his professional knowledge in biotechnology and pharmaceutical and international market perspective are greatly beneficial to the Company's business operations.
Implementation and achievement of the goals of diversity of the members of the board are as follows:
Goal: Directors concurrently serving as company personnel not to exceed one-third of the total number of the Board members. Achievement: 2 Directors of the Company concurrently serve as Company personnel, constituting 25% of the total number of Directors, which is less than one-third of the total number of Directors, achieving the goal.
Goal: The composition of the Board of Directors shall be diversified, with members having different industrial experience and expertise, so as to achieve the effect of the diversity policy. Achievement: The Company's Directors possess the expertise and experience required for the business operations.
Goal: The Company places importance on the Board of Directors' gender composition and will add one seat for a female Director. Achievement: The Company's Board of Directors are re-elected on June 6, 2023 and have added one female Director.
Board Diversity
NAME
AGE
INDUSTRIAL EXPERIENCE
EXPERTISE
35-45
46-55
56-65
Securities Investment
Media Technologies
International Trade
Bank Insurance
Asset Management
Accounting Economics
Electrical Civil Engineering
Business Management
Biotechnology And Medicine
Sheng Pao-Shi
Chairman
(Male)
V
V
V
V
V
V
V
Shen Shang-Hung
Director
(Male)
V
V
V
V
V
V
Chen Shih-Min
Director
(Male)
V
V
Chen Kuan-Pai
Director
(Male)
V
V
V
Lai Ming-Jung
Independent Director
(Male)
V
V
V
V
V
Lee Yi-Chin
Independent Director
(Male)
V
V
V
V
V
Lin Jui-Yi
Independent Director
(Male)
V
V
V
V
V
V
Lin Hsin-I
Independent Director
(Female)
V
V
V
Total ratio %
12
50
38
63
38
50
25
50
25
25
63
25
Board Diversity
The Succession Plan for Board of Directors and Management Team
Succession plan for Board of Directors
The Company has 8 Directors, including 4 Independent Directors. The Company's bylaws state that the Company's Board of Director election adopts the candidate nomination system. The Company must also establish Audit and Remuneration Committee to provide professional opinions and to assist the Board in formulating the best decisions. The Company's Audit and Remuneration Committee members are composed by Independent Directors with different industry backgrounds. The Company's Board Members who concurrently serve as the Company's employee does not exceed one third, to comply with the Company's Diversity Policy.
For the Company's Board Member Succession Plan, the Company will arrange managers to report their business to the Board quarterly. Managers will understand the Board function and allow for exchange of ideas with Board Members to facilitate the growth of each Manager's decision making, leadership, and internationalization skills.
The Company's Board Members take part in continuous learning opportunities every year and attend a training session hosted by the Company to maintain and enhance their professional knowledge. The Company conducts regular internal and external evaluation and review in accordance to the Company's "Board Performance Evaluation Procedure". The above information is used as the reference when distributing Director's remuneration and for nominating the Board member.
To cultivate and foster the growth of Board talent, the Company will arrange for rotation of managers to subsidiary business to become Board, Supervisor, or Managers, to understand the Board function and each unit's business. With different perspectives and increase in work scale, the Manager's leadership skills and industry knowledge will enhance the Company's talent pool.
Management team succession plan
The Company's Managers are hired in accordance with local regulations. Performance review and promotion are conduct regularly in accordance with internal procedures. The above procedures are reviewed and approved by the Remuneration Committee and the Board to ensure the suitability of Managers.
For talent development, the Company hosts a Manager's strategic workshop to discuss future strategic planning, topics include strategic thinking and planning, strategic mapping, change management, talent development, leadership and more. In 2022, the Company introduced an international evaluation tool. With the quantitative analysis and qualitative interview, the individual's evaluation on an overall leadership analysis report is completed to analyze the potential success factors, profession, and key behavior strengths.
For individuals, individual evaluation results and individual development plans are established jointly with their supervisor. The Company also provides work expansion to train the Manager's vision of multinational talent. Promotion is evaluated based on individual performance, potential, and organizational structure to set up a succession plan for the Company's Managers.
Implementation
For Committees attendance rate, please refer to the Company's Annual Report.